We require a minimum of 16 photos to create your vehicle profile.
Exteriors: We require four exterior photos, one from each corner of the vehicle at a 45-degree angle. The doors of the vehicle should be closed, and the number plate needs to be displayed. The full vehicle should be shown within the frame of the image. Please do not have any people or pets in the vehicle when taking these photos.
Seats: We require photos showing at least 80% of the front and back seats of the vehicle. If your vehicle doors get in the way when photographing the front or back seats and make this problematic, we advise opening the driver-side doors, lowering the window, and using the empty window frame to take the photos.
Dashboard: With the dashboard photo, you need to show the full steering wheel, the centre console and gearstick. The best way to get these photos is by taking them from the back seat.
Boot interior: For the boot interior photo, we require your vehicle's boot to be empty. Some boots are not well-maintained, and dealers will want to know the condition your vehicle's boot is in before they make an offer.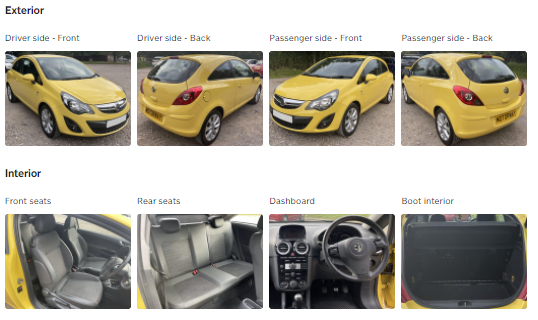 Alloy wheel photos: When it comes to your alloy wheels, you need to ensure that the photos are taken head-on with the full alloy visible in each image. We recommend cleaning the alloys beforehand, as this will make the vehicle more appealing to our network of dealers.
Tyre treads: With the tyre tread photos, we recommend taking them either from a head-on position – from the front and back of the vehicle – or between the wheel arch and the wheel. Please note: we must be able to see the tread and condition of the tyres.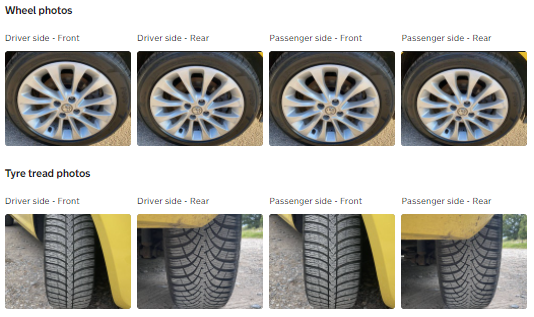 Convertible cars: You should provide photos that show the vehicle with the roof up and down. Preferably, from driver-side front.